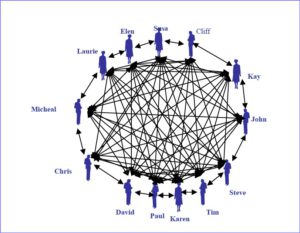 A global SoL report on living and working well together in social systems
Dennis Sandow's work for "Stockholm 2022 – Learning plaza".
Sudden changes can appear in organizations when people realize the quality and importance of their relationships, discovering their capacity to work well together.
This simple question can trigger this very discovery: "How do we do what we do, when we work and live well together?".
Once people relize the importance of being together they mutually engage in a deeper commitment to accomplish their roles and activities, while communication and exchange of information become critical factors of success.
This more-than-a-couple-of-years long work, offered to SoL has been a tribute to Aire de Geus and to Piaget's Learning through Accomodation.
This is the report of what has been this work of learning, for everybody, teacher included, made of long and deep dialogues many times beyond the scheduled time for the lessons!